. The all sufficent bread of life (Part 3)
THE ALL SUFFICIENT BREAD OF LIFE (PART 3)
John 6:1-15 (ESV) "1 After this Jesus went away to the other side of the Sea of Galilee, which is the Sea of Tiberias. 2 And a large crowd was following him, because they saw the signs that he was doing on the sick. 3 Jesus went up on the mountain, and there he sat down with his disciples. 4 Now the Passover, the feast of the Jews, was at hand. 5 Lifting up his eyes, then, and seeing that a large crowd was coming toward him, Jesus said to Philip, "Where are we to buy bread, so that these people may eat?" 6 He said this to test him, for he himself knew what he would do. 7 Philip answered him, "Two hundred denarii would not buy enough bread for each of them to get a little." 8 One of his disciples, Andrew, Simon Peter's brother, said to him, 9 "There is a boy here who has five barley loaves and two fish, but what are they for so many?" 10 Jesus said, "Have the people sit down." Now there was much grass in the place. So the men sat down, about five thousand in number. 11 Jesus then took the loaves, and when he had given thanks, he distributed them to those who were seated. So also the fish, as much as they wanted. 12 And when they had eaten their fill, he told his disciples, "Gather up the leftover fragments, that nothing may be lost." 13 So they gathered them up and filled twelve baskets with fragments from the five barley loaves left by those who had eaten. 14 When the people saw the sign that he had done, they said, "This is indeed the Prophet who is to come into the world!" 15 Perceiving then that they were about to come and take him by force to make him king, Jesus withdrew again to the mountain by himself."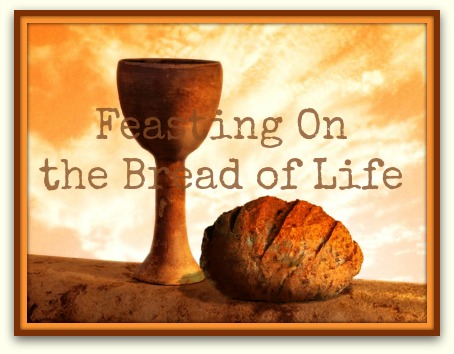 Introduction:
In my last sermon we saw the test that the disciples were facing as far as their faith was concerned. Jesus asked a simple question which was, where they were going to find enough bread to feed the multitude here next to the Sea of Galilee. Philip was more concerned about the 'how' and quickly calculated that eight months wages would not provide each one with even a bite. Besides this reality we also know that Bethsaida would not have enough bread to feed a crowd of this magnitude even if they did have enough money. We saw that Christ was not testing Philip to see what was in Philip as He already knew but that He was testing Philip to show Philip what was in himself as far as his faith is concerned. Philip and the rest of the disciples had to understand their human insufficiency and learn that only in Christ do we have the all sufficient one. All of the disciples somehow failed the test, as they faced the magnitude of the situation.
According to Mark 6 Jesus sent the disciples into the crowd to see how much food they had. We read in verse "38 And he said to them, "How many loaves do you have? Go and see." And when they had found out, they said, "Five, and two fish." This is what you would call a sticky situation.  Now this knowledge of their insufficiency was to set the stage for a big lesson in the Lord's all-sufficiency.
We now get to the miracle and I want to for a few sermons stand still at this miracle and observe a few things about the way in which our Lord works. It is critical for us not just to see WHAT the Lord Jesus did; it is HOW the Lord Jesus did it. We could just look at the miracle today and fly ahead with a next sermon, but I believe we need to look at how our Lord did what He did in greater depth as it teaches us much about Him, but also much about ourselves in the Kingdom today.
What do we see here about the way that Jesus worked this miracle?
Point 1. He uses the natural things in a supernatural way.
What we see in this section is that Jesus did a supernatural thing in a very natural way with something we would classify as inadequate. There is no denying that this is a creative miracle. Now remember that all things were created by Him and through Him and for Him, and here Jesus is looking up to the Father and from His hands He produces bread and fish to feed between 15 and 20 000 people.
What is interesting here is that there is no fanfare, no hype, no stirring up of the emotions. There is no auto-suggestive stuff and vain promises before He does something. Jesus works in a very natural way with the supernatural. He has all the people sit down. The Greek word literally means that they were to recline. He takes what has been brought to Him namely the 5 loaves and 2 fish and gives thanks for it. He begins to distribute and they all get fed. Isn't it amazing that He made use of the bread and the fish at all? He could have had bread fall out of the sky, or simply appear on the lap of each person.  But what does He do? He makes use of something natural. He takes bread and He takes fish and He then supernaturally multiplies it. We need to remember today that  God is still doing things that only God can do, but using things that are already in our possession.  God is still taking our little bit and making a lot out of it. To say it another way, God often does what only God can do while requiring from you what He has already put in your possession, or requiring from you to do that which you are able to do by grace.
Remember the sick man that was dropped through the roof. They did what they could do and that was to get him to Jesus, but Jesus did what He alone could do and that was to raise the man from his sickbed. Remember the resurrection of Lazarus. Yes, He used man to roll the stone away, but Jesus did what only He could do and that was to raise Lazarus from the dead.
What is important for us is to realise that God doesn't need a thing from us, but He allows us, and often REQUIRES from us to contribute what He has already put in our possession so that we might demonstrate our faith, or our obedience, or our willingness, and see that what He does is far beyond what we could have done. If Jesus had fed the multitude without any contribution it would have been astounding, but how much more striking is the miracle when we see Jesus taking the loaves and fish from the boy to perform the miracle. You and I can sit back so easily and just take from God and then we miss the privilege this little boy had. There is so much more joy in giving and then seeing what God does with what we gave.
Now look with me this morning at how our Lord uses natural things and even foolish things at times to show forth His glory.
1.1

He uses the resources of a boy
Now this boy was a poor boy. As I mentioned before, Barley loaves were the cheapest of loaves, most commentators say they were no more than little biscuits. Remember that five of these plus too little fish, basically about sardine size were sufficient to be the meal of this young boy. He was insignificant. Who pays much attention to a little boy when you face a crisis of such a magnitude? This young man was unknown and even though we know about Him and what the Master did with what he had, we still do not know who He was. I guess he had a major story to tell when he got home that day. But Christ uses him.  Little did this boy know that by God's sovereign plan on this day his small resources would be used by the Saviour to accomplish something that we would still be reading about and learning from 2,000 years later.
1.2

He uses resources that were clearly insufficient
Look at the words of Andrew in John 6:9 (ESV) 9 "There is a boy here who has five barley loaves and two fish, but what are they for so many?" I cannot read Andrew's mind, but I am sure that he would have expected Christ to say, "Andrew, you've got a point, send the boy back that he can eat his food and we will leave the people to their own devices."
I like Andrew. We read so little about him, but remember he was the one who brought Peter to Christ and here we see him obeying Christ. Remember Jesus told them to go and see what they had amongst the people. Andrew obeyed the Lord Jesus.  It is clear that Andrew thought this boy's lunch to be insufficient, he could have made the decision on his own not to even bring it to the Master, but he doesn't do that.  Andrew simply does what Jesus told him to do. Right Lord, you told us to see what the people have and this is all I could come up with. But then look at what Jesus does. He takes what men would have laughed at and scoffed at and uses it to feed a multitude.
Let me say something here about what the Lord does in the spiritual realm. Is it not true that he has chosen to work in a natural way? Salvation is a supernatural work of God isn't it?  The new birth is the work of God in a human soul.  But God has chosen to use friendships, family relationships, conversations, the testimony of changed lives, worship services, men's breakfasts, bible study classes, mission trips, and even recreational activities as a means to bring sinners to faith in His Son.
I want to ask us a few questions this morning as we consider the fact that He uses that which is clearly insufficient.
1.2.1

Is it not true that he has chosen to work with foolish things?
God clearly uses a message that is seen as foolishness in this world. 1 Corinthians 1:21 (ESV) "21 For since, in the wisdom of God, the world did not know God through wisdom, it pleased God through the folly of what we preach to save those who believe." A Jew dying on a tree in Israel brings sinners all over the world to a right relationship with the one true God, if they receive that man, who was raised from the dead, as Lord and Saviour? For the world this sounds foolish, but this is what God chose.
God uses messengers that are considered as foolish in this world.  1 Corinthians 1:26-29 (ESV) "26 For consider your calling, brothers: not many of you were wise according to worldly standards, not many were powerful, not many were of noble birth. 27 But God chose what is foolish in the world to shame the wise; God chose what is weak in the world to shame the strong; 28 God chose what is low and despised in the world, even things that are not, to bring to nothing things that are, 29 so that no human being might boast in the presence of God."
God uses methods that are regarded as foolish by the world. Think about the cross and preaching. 1 Corinthians 1:18 (ESV) "18 For the word of the cross is folly to those who are perishing, but to us who are being saved it is the power of God." Who would have thought that God would uses the preaching of His word to save men? God would send men and women forth into this world, in their sphere of relationships, declaring, heralding, a message from heaven, a message of good news? Isn't that a foolish way to do it?  Wouldn't entertainment be a better way?  Wouldn't impressive displays of wealth or talent be a better way?
1.2.2 Is it not true that he has called upon us to dedicate our insufficient resources to him?
2 Corinthians 2:15-17 (ESV) "15 For we are the aroma of Christ to God among those who are being saved and among those who are perishing, 16 to one a fragrance from death to death, to the other a fragrance from life to life. Who is sufficient for these things? 17 For we are not, like so many, peddlers of God's word, but as men of sincerity, as commissioned by God, in the sight of God we speak in Christ." 2 Corinthians 3:5-6 (ESV) "5 Not that we are sufficient in ourselves to claim anything as coming from us, but our sufficiency is from God, 6 who has made us competent to be ministers of a new covenant, not of the letter but of the Spirit. For the letter kills, but the Spirit gives life." We are insufficient but we are still His ambassadors.  He has made us sufficient.  Our sufficiency is from God. So I believe that like the disciples on this day, we realise that we are incompetent and that our resources are insufficient. So this then brings us to our third question.
1.2.3 Is it not true that we are not to look to our insufficient resources but listen to the commands of our saviour?
One of the things that impress me about the disciples is that even though they failed the test of faith, they did not fail the test of obedience. Think about it for a moment. If you lack faith and fail to obey you have had it because the only way God can ever take you up to the point of new trust is for you to obey what He tells you to do.
Many times we stand before issues where faith is so difficult, but we simply obey because of what we know God wants us to do, and then what happens? As we see God act our faith is increased. Obedience is always the channel through which faith comes.  Your faith will never grow unless you're obeying the Lord.  You see the supply was already in the mind and the sovereign will of the Saviour but it was going to flow through the obedience of those twelve. And that miracle wouldn't have happened if they hadn't obeyed Him. See, faith grows and trust grows through obedience. Obedience is the channel of blessing.  John 15:10-11 (ESV) "10 If you keep my commandments, you will abide in my love, just as I have kept my Father's commandments and abide in his love. 11 These things I have spoken to you, that my joy may be in you, and that your joy may be full."
So faith, trust and joy grow through obedience.  The disciples might be criticized for weak faith, but their obedience was on schedule. It is so easy for us to say 'who am I Lord'?  What is the power found in my words?  What can I say that they haven't already heard?  What can I do that 1,000 people couldn't do better? Therefore I guess I will do nothing. Is that the right attitude?  No, when you think that way you are looking at the wrong thing.  You are looking at your lunch and the crowd instead of looking at the One into whose hands you are placing your lunch. The real question is, what can the Lord Jesus do with your lunch? He has chosen to use lunches sometimes.  He has chosen to use people just like you. He has chosen to do supernatural things in a very natural way.  What if He has chosen to use you today? If you are His child – He has.
1.2.4  

What is it that you have that can be multiplied by our Saviour?
A simple way of asking this question is, what is God asking from you?  There are many lunches that we do have. I am thinking of the future of Logos, do we have lunch for it? None of us have the sufficient resources to ensure it, but isn't God able to use what we do have to give for the sake of His glory. Normally what we have is totally insufficient. What about that talent or gift that He has given you. You might be holding back because you do not believe that what you have is adequate. What about the privilege of sharing your faith. What about being available to serve in some practical way. Give yourself to Christ, and when you have used yourself for his glory, you will be more able to serve him than you are now; you shall find your little stock grow as you spend it.
Some of you have read the book Pilgrim's progress. In it John Bunyan gives a picture of the man who had a roll of cloth. He unrolled it, and he cut off so much for the poor. Then he unrolled it, and cut off some more, and the more he cut it, the longer it grew. Upon which Bunyan remarks— "There was a man, and some did count him mad; the more he gave away, the more he had." It is certainly so with talent and ability, and with grace in the heart. The more you use it, the more there is of it. It is often so with gold and silver. You might be familiar with the saying: "the store of the liberal man increases, while the miser grows poor." I cannot make a statement like that without reflecting on the Macedonian churches in their giving. 2 Corinthians 8:1-8 (ESV) 1 We want you to know, brothers, about the grace of God that has been given among the churches of Macedonia, 2 for in a severe test of affliction, their abundance of joy and their extreme poverty have overflowed in a wealth of generosity on their part. 3 For they gave according to their means, as I can testify, and beyond their means, of their own accord, 4 begging us earnestly for the favour of taking part in the relief of the saints— 5 and this, not as we expected, but they gave themselves first to the Lord and then by the will of God to us. 6 Accordingly, we urged Titus that as he had started, so he should complete among you this act of grace. 7 But as you excel in everything—in faith, in speech, in knowledge, in all earnestness, and in our love for you—see that you excel in this act of grace also. 8 I say this not as a command, but to prove by the earnestness of others that your love also is genuine.
We have an old proverb, which is as true as it is suggestive: "Drawn wells have the sweetest waters." So, if you keep continually drawing on your mind, your thoughts will get sweeter; and if you continue to draw on your strength, your strength will get to be mightier through God. The more you do, the more you may do, by the grace of God.
So here we have hungry people, thousands of them, and we have worried disciples, helpless in the face of the enormous need, and here stands a young boy willing to give up his lunch for Jesus, and we have the incarnate Son of the living God about to demonstrate what can happen with anything surrendered to God. Who would have thought that the lunch of a young boy would be used to feed so many thousands of people? The bottom line is my sermon title for this morning: "little becomes much when you place it in the Master's hand". How thankful we should be that the grace of God is not dependent upon the poverty of our faith. This crowd had no clue what was going to happen, the disciple had no idea what was going to happen and the boy had no idea what was going to happen,  but that didn't restrict the grace of God, did it?
So I have a good recipe for you today, take a lot of obedience, mix it with a little bit of faith and add to it your loaves and fish and place it in the Master's hands, and you will be surprised with the outcome.
Amen!
Soli Deo Gloria
Logos Community Church: - 14 June 2015