. Why bad things happen to good people (Remix) P1
WHY DO BAD THINGS HAPPEN TO GOOD PEOPLE (REMIX) PART 1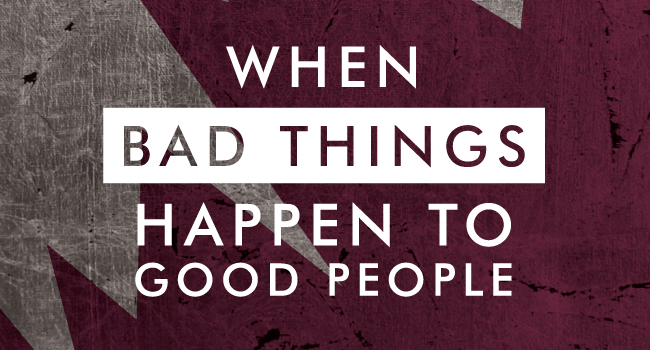 Romans 8:18-25 (ESV) "18 For I consider that the sufferings of this present time are not worth comparing with the glory that is to be revealed to us. 19 For the creation waits with eager longing for the revealing of the sons of God. 20 For the creation was subjected to futility, not willingly, but because of him who subjected it, in hope 21 that the creation itself will be set free from its bondage to corruption and obtain the freedom of the glory of the children of God. 22 For we know that the whole creation has been groaning together in the pains of childbirth until now. 23 And not only the creation, but we ourselves, who have the firstfruits of the Spirit, groan inwardly as we wait eagerly for adoption as sons, the redemption of our bodies. 24 For in this hope we were saved. Now hope that is seen is not hope. For who hopes for what he sees? 25 But if we hope for what we do not see, we wait for it with patience."
Introduction.
Today and next Sunday, I need to break in to our Father Heart of God series with a sermon to encourage us in the light of recent and present events.
Sometimes in life as individuals we suddenly get hard hit by more than one tuff situation either at the same time or in quick succession. Then we tend to feel that everything is going wrong, that life is out of control and we become depressed. Eventually we lift out of it and life goes great again for a significant future. In a group context like at Logos we experience the same. Actually the potential for things going wrong in a group context is bigger as there are more chance for a few of us to go through trials piggy backing on top of one another than for individuals going through successive trials. However it makes us despondent and we tend to lose focus, and the group can experience a 'group depression'. When trials are successive, we tend to ask questions like 'what else', 'when is this going to end', 'are we under attack', 'is God punishing us', and 'what do we do about it?'
Now some of the trials that we have been facing as a group for the last year are things like Vanessa with her continuous back problems, Brenda with her back problems, then Wendy who was diagnosed with Cancer, and then of course loved ones who passed away. Harry went to be with the Lord and then the horrific death of Ann and Oumatjie in that car accident. Francis and Moné were the recipients of an armed robbery. Then there are others who have been sick and some who had operation. Now, all of this can make us despondent. Why? Well because of our group identity, we are a family and we hurt and mourn with one another. It is quite Biblical that when one part of the body suffers we all suffer. Some to a lesser extent and some to a greater extent. Be glad that you are not a pastor who has to walk with all in their trials. It can be enormously emotionally draining, and you want to fix it all, but you cannot.
Two years ago in February 2013 I did a four part series entitled 'why do bad things happen to good people'? We looked at Job and learnt a few lessons there, and then we turned to the New Testament to Romans 8 to get some perspective here. I want to for the sake of our hearts that are troubled just get back to Romans 8 for two sermons and then we will continue with the Father Heart of God. Again, reminders or repeats are critical as we can never take everything in during one sermon. Next week I will release the series that we did in 2013 in book form, some come prepared to get one.
In Job's story we saw that the answer to 'why bad things happen to good people' is not always found on earth, but it is found in heaven. At the end of the day God's glory is on display and God will allow things to happen in our lives even at the hand of Satan, by which His manifold wisdom is displayed to the Holy and the fallen angels. Now as we turn to Romans 8 we find a text rich in theology regarding suffering. We are not going to deal with it today but if you studied Romans 8:13-17 you will see that as children of God, as heirs of God with Christ we will indeed suffer so that we may be glorified with Christ. Everybody in this world will suffer, but you either suffer with Christ or without Christ. Now remember as heirs we are heirs of the world, we are heirs of God himself and we are heirs of our future glorification with Christ. If we did not suffer in this world then we are enjoying our glorification now. Just think if we had no trials now, what is there to look forward to in our glorification. Just think if there was no sickness and death, what significance is there then in the term 'eternal life'?  The point of verse 13-17 is that we would move from fear to freedom, from the scary to the spectacular, from doubt to deliverance and from hopelessness to hope.
So, today I want to return to that theme: "why bad things happen to good people?", and we will keep on walking through the verses in Romans 8 from verse 18, do a bit of a Remix and see what we learn. Today, I want to challenge you to persevere in trials and to understand why they happen and where you fit in with the 'big picture', and then next week I want to challenge you to put your absolute trust in Christ and your hope in what is yet to come.
Your trials Christian are simply not worth comparing with what is to come and that is where Paul starts in verse 18: "18 For I consider that the sufferings of this present time are not worth comparing with the glory that is to be revealed to us." In short based on the illustration I shared previously, your struggles with that old 1967 VW Beetle are not worth comparing with the joy of driving that Audi R8 Spyder 5.2 V10 FSI QUATTRO AUTOMATIC valued at R 2.1 million that you are an heir of. So hang in there, suffer 'maar lekker' (excuse the Afrikaans) with the VW because the best is yet to come. Don't throw away your hope, you have now battled with that VW long enough, now it is totally kaput, and now you still have to run the last 5 km to the Audi Garage, but church family when you finally get there you will say it was worth it and what a glorious inheritance.
So today's sermon is to help you and us to deal with suffering and to understand 'why bad things happen to good people'. And if you are not suffering now, your time will come and it will always feel like it has come from nowhere, and is totally undeserved and against your character. So let's walk through these verses and see what we can learn.
Point 1. Suffering in the light of the Big Picture.
What Paul does for us in these verses is to put suffering in the light of the big picture. Or as John Piper puts it, Paul puts our suffering in a 'global context'. I think it is even more accurate to say that Paul puts our suffering in the context of the cosmos, but let's stay with the big picture. Even though for some this is not immediately apparent, I believe that Romans 8 helps us to get our mind around the theme so that we can say, life is worth the suffering and we can endure it. This is what we need to know about our suffering so that we can say with Paul: it's worth it. Today, I want you to see that your suffering fits into the puzzle of the grand scheme of God. So let's see what Paul tells us about the big picture and in this sermon we will simply look at it from the one angle and next week we will flip the coin around and look at it from the other angle.
1.1. The whole of creation groans
Do you realise that it is not just us that are suffering, but the whole of creation are suffering? Paul is very clear in this regard. All creation is involved in groaning, frustration, and corruption, and suffering. He says it three times in three different ways.
Verse 20: Romans 8:20 (ESV) "20 For the creation was subjected to futility, not willingly, but because of him who subjected it, in hope" Notice: it's the creation that is in the grip of futility. Not just mankind and not just you. That is why there will be a new heaven and a new earth.
Verse 21: Romans 8:21 (ESV) "21 that the creation itself will be set free from its bondage to corruption and obtain the freedom of the glory of the children of God." Isn't it wonderful to know that your groaning and your suffering in this world are part of a universal slavery to corruption? Your suffering is not merely personal. There is a much bigger explanation for it. It is part of something global. That is why I say that you must see your life in the light of the Big Picture. There is in the world of nature decay, ruin, dissolution, and perishing. There's something out of order and harmful about it all. It's not just you. Be careful not to think that all your suffering has to do with something you did individually. That is why we even saw with Job that you cannot look for the answers on earth, because there is a bigger picture. I will get back to that again later, but think about it for a moment, that if we suffered simply for the sin we commit or the wrong we do, we should all be dead by now.
Then we see verse 22: "22 For we know that the whole creation has been groaning together in the pains of childbirth until now." The "whole creation" is groaning. In other words, don't think that when you suffer it has to do only with you and your personal situation. You are part of a groaning that the whole creation experiences.
So the first thing Paul does to put our suffering in a global context and give us perspective of the big picture, and to  help us endure our misery is to show us that all of nature is involved in futility, corruption and groaning, not just us.
1.2 The timeline for  suffering is from the fall to the second coming of Christ
Paul shows us that all this suffering is historical and not just momentary. In other words, it not only grips all of nature, it grips all of our present history – what Paul calls in verse 18 "this present time": "18 For I consider that the sufferings of this present time are not worth comparing with the glory that is to be revealed to us."
You can see this historical dimension of our suffering in the time references throughout the paragraph. For example, verse 20: "20 For the creation was subjected to futility, not willingly, but because of him who subjected it, in hope" There is a historical event in the past long ago. Then verse 21 "21 that the creation itself will be set free from its bondage to corruption and obtain the freedom of the glory of the children of God."
So there is a beginning of this frustration seen in 'was' and there is the end point of the suffering in the future seen in 'will'. So between the distant past and the indefinite future, all of history is part of this suffering and groaning. So don't think that you or your family or your time is necessarily singled out for suffering. This groaning and corruption and futility have been in the world for all of history, and will be till Jesus comes again.
When did this frustration start? It started at the very point when God subjected it to futility. As much as creation had no say in it, you and I have no say in it. So, here is the beginning of the futility and corruption and groaning of creation.
What is he referring to? Don't miss this, because this is the most important point so far. Paul is referring here to God's action in subjecting the creation to futility and groaning and corruption. How do we know it was God that he is referring to? How do we know it was not Adam by his sin, or Satan by his temptation of Adam and Eve? We know this because of the words "in hope" at the end of verse 20: "The creation was subjected to futility, not willingly, but because of Him who subjected it, in hope." Adam did not sin 'in hope'. Adam had no plan for the revelation of the children of God in due time. Satan did not subject the world to futility 'in hope'. Satan had no plan for the revelation of the children of God in due time, and he has no hope for you. The person clearly referred to is God and the reason it happened is because God said it would. Look at Romans 5:12 (ESV) "12 Therefore, just as sin came into the world through one man, and death through sin, and so death spread to all men because all sinned—" So when Adam sinned, death and suffering and futility and groaning came into the world. This leads us to a further point.
1.3 The subjection to futility is judicial and by God.
This leads us to a massive and incredibly important truth: the futility and corruption and groaning of the creation are judicial, not just natural. They are a divine, judicial decree, not just a natural consequence of material events. God decreed the futility and corruption and groaning of the world in response to sin. It is a judicial act, not just a natural consequence.
The second law of thermal dynamics, sometimes called "entropy" – that the universe is running down, that it has a built-in tendency now to disorder – is not a natural quirk or accident. It is part of God's decree. Since the fall, futility is built into the universe. Did you know that even stars die?
It is amazing how many Christians are so desperate to remove God from the suffering in the world that they are willing to become "deists" in order to keep God out of the equation. A deist was a person who thought of the universe as created by God and then set apart like a clock to tick on its own with no divine interference. Everything was explained in terms of merely natural laws, not divine decrees. That is not Biblical. What is Biblical is again verse 20: "The creation was subjected to futility, not willingly, but because of Him who subjected it, in hope." The miserable condition of the world today – its futility and corruption and groaning – are owing to the judicial decree of God in response to sin. This then leads us naturally to our next point which is:
1.4 Suffering is ultimately the consequence of sin.
Therefore, the meaning of all the misery in the world is that sin is horrific. Look what sin caused. All natural evil is a statement about the horror of moral evil. If you see a suffering in the world that is unspeakably horrible, let it make you shudder at how unspeakably horrible sin is against an infinitely holy God. Look how horrified people are when they look at the activity of ISIS and individuals like Boko Haram. Suddenly there is judgment over behaviour as being evil and horrifying. And then we battle to understand God's horror as He looks at our sin. The meaning of futility and the meaning of corruption and the meaning of our groaning is that sin – falling short of the glory of God – is ghastly, hideous and repulsive beyond imagination, and therefore we must hate sin. If you do not think that sin is ghastly and deserved the judicial act of God, wait till somebody sins against you, and see if you still feel the same.
Unless you have some sense of the infinite holiness of God and the unspeakable outrage of sin against this God, you will inevitably see the futility and suffering of the universe as an overreaction. But in fact the point of our miseries, our futility, our corruption, our groaning is to teach us the horror of sin, and the preciousness of redemption and hope.
So in summary, what is the big picture we saw?
Firstly, Paul shows us that the futility and corruption and groaning of the world is a judicial decree of God, not just a fluke or a law of nature. God subjected the creation to futility.

Secondly, Paul shows us that this subjection includes all history from the fall to the coming of Christ. But praise be to God, it is temporary as it had a beginning, and it will have an end.
Thirdly, Paul shows us that all creation, not just part of it, is involved in the futility, as "the whole creation groans."
All of this Paul tells us because he wants to help us understand our situation and endure our sufferings with faith and hope. We will focus on the hope next week. But notice in closing the personal point of this big picture. Where do we fit in, or 'why do bad things happen to good people?' Why are we at Logos at present going through trials in people's lives? Shouldn't it always go well with God's people? Verse 23 brings it down to our personal situation. Romans 8:23 (ESV) "23 And not only the creation, but we ourselves, who have the firstfruits of the Spirit, groan inwardly…" Christian, you cannot escape it. If you are in an argument with the health, wealth and prosperity guys, simply point them to this text. The recipients of suffering clearly include us who are first fruits of the Spirit.  So we too groan, not just creation. And let me say this. Christians get sick, atheists get sick, Christians die, atheists die, Christians can be healed and atheists can be healed. The one big difference is that we will rise to eternal life, and they will rise to eternal damnation. In the meantime we are all recipients of the common grace of God.
Even us who have a sovereign God who works all things together for our good, even us who are the bride of Christ, even us for whom God gave his only begotten, all of us groan under the curse of creation. Just one last point as you endeavour to make sense of your own circumstances, because you understand the big picture, REMEMBER:
1.5 From too much analysis come paralysis.
Some of you might remember the illustration I gave before of the millipede who was asked by the cockroach which foot he puts forward first, and then from too much analysis he died of paralysis. In other words, don't overly personalise your suffering. Don't assume that this is some particular punishment or result of a particular sin. Search your heart in the time of pain. Sure, if you are in sin, stop sinning. Let it make you serious and vigilant and humble. But don't add misery to misery that is not intended. The whole creation groans. It is a general divine decree on the whole world. And Paul's point is: even the precious children of God must suffer with Christ in it. So don't internalise too much, because it will depress you.
Remember we have Job's story and his was not a punishment of sin, right? On the contrary that was the very point of Job – that the righteous can suffer greatly.  What you and I cannot do is to enter into the throne room of heaven and ask for our story. Neither could Job by the way. Just remember that in your story and through your story the manifold wisdom of God is being made known to the fallen angels and the Holy angels. Ephesians 3:10 (ESV) "10 so that through the church the manifold wisdom of God might now be made known to the rulers and authorities in the heavenly places."
So let us humble ourselves and take our share of suffering with patience and hope. Because we consider with Paul that the sufferings of this present time are not worth comparing to the glory that will be revealed to us.
Next week we will look at this same text but this time we will focus on the flipside of the coin which is the incomparable hope that God holds out to us in the same verses. In the meantime, hang in there to the Glory of God.
Amen!
Soli Deo Gloria
8 February 2015 Logos Community Church