. The all sufficent bread of life (Part 2)
THE ALL SUFFICIENT BREAD OF LIFE (PART 2)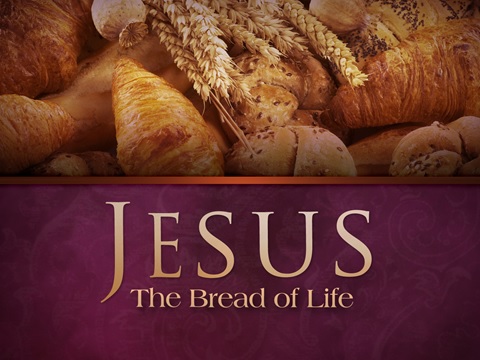 John 6:1-7 (ESV) "1 After this Jesus went away to the other side of the Sea of Galilee, which is the Sea of Tiberias. 2 And a large crowd was following him, because they saw the signs that he was doing on the sick. 3 Jesus went up on the mountain, and there he sat down with his disciples. 4 Now the Passover, the feast of the Jews, was at hand. 5 Lifting up his eyes, then, and seeing that a large crowd was coming toward him, Jesus said to Philip, "Where are we to buy bread, so that these people may eat?" 6 He said this to test him, for he himself knew what he would do. 7 Philip answered him, "Two hundred denarii (eight months wages) would not buy enough bread for each of them to get a little."
Introduction:
We return today to this miracle where supply was most definitely greater than demand. One of the amazing things about our God, and I have pointed this out often, is that He is able to accomplish so many different things at the same time. Just think of the fact that God is working all things together for the good of all those who love Him at the same time. Isn't that marvellous? We get a real taste of this in this passage of scripture before us.
In our first sermon last week which was really an introduction to this section we learnt some lessons about our Saviour. We saw His compassion and His concern for people even when He was weary and longed for some solitude.  We learnt about His mercy and His purity and His selflessness.  We saw that there is a lesson in all of that for us. But there is more than just lessons we learn of our Saviour directly, there are indirect lessons here as well.
Something we have not touched on which I want to mention here even though we might get to it in more detail later is that there is also in this text a look back to the Old Testament. What God was doing here in this miracle was a statement to the Jews that Jesus was indeed their Messiah. You will notice the reference to "the prophet" in verse 14: "14 When the people saw the sign that he had done, they said, "This is indeed the Prophet who is to come into the world!" This looks back to the Messianic prophecy of one who would come and would be like Moses. Deuteronomy 18:15 (ESV) 15 "The Lord your God will raise up for you a prophet like me from among you, from your brothers—it is to him you shall listen—"
Also they will all remember the Manna from heaven that was provided for Israel during the time of Moses, and will soon learn that Christ not only can provide bread in a physical way but that He is the bread of life for all believers. We are going to see something of this in John 6:32-33 (ESV) "32 Jesus then said to them, "Truly, truly, I say to you, it was not Moses who gave you the bread from heaven, but my Father gives you the true bread from heaven. 33 For the bread of God is he who comes down from heaven and gives life to the world." The Messiah however is not just one like Moses, but He is greater than Moses and He is also greater than the prophets because He is the bread from heaven.
Now look at the miracle itself, and we notice that Jesus takes 5 barley loaves and 2 fish and feeds 15 – 20,000 people. Does this have any reference to the Old Testament? Indeed it does. The barley loaves remind us of a supernatural feeding that took place in the Old Testament. 2 Kings 4:42-44 (ESV) "42 A man came from Baal-shalishah, bringing the man of God bread of the firstfruits, twenty loaves of barley and fresh ears of grain in his sack. And Elisha said, "Give to the men, that they may eat." 43 But his servant said, "How can I set this before a hundred men?" So he repeated, "Give them to the men, that they may eat, for thus says the Lord, 'They shall eat and have some left.' " 44 So he set it before them. And they ate and had some left, according to the word of the Lord."
Twenty small barley loaves for 100 men sounded insufficient, but God provided through Elisha. But somehow we can argue that it was doable, you just went to bed hungry, but here you have five barley loaves and two fish for maybe 15 - 20 000 people.  Which need do we think was greater – and whose resources were smaller? But with all of what was going on here, there was something in this sign for the people but also for His disciples. Just think what went through their minds when they gathered 12 baskets of bread afterwards. They started with 5 loaves, fed thousands of people and each of them was sitting with a basket full of leftovers after that.
This morning I want to look at one aspect of what the Lord is teaching His disciples, then in sermons to come we will look at it from other angles. So this morning I simply want to look at the question that Jesus asked Philip, then we will look at the answer he gave and then I want to look at the implications of the question and answer for His disciples and for us.
Point 1. The question Jesus asked.
John 6:5 (ESV) "5 Lifting up his eyes, then, and seeing that a large crowd was coming toward him, Jesus said to Philip, "Where are we to buy bread, so that these people may eat?"
What can we say about this question in verse 5?
1.1

It is a question with a design
It is not a question asked because Jesus did not know what to do or because He was in need of Philip's help.  The Holy Spirit does not allow us for a moment to think that Christ was helpless. The Bible says that Jesus already knew exactly what He was going to do.  The reason He asked Philip this question was to "test him". Look at verse John 6:6 (ESV)
"6 He said this to test him, for he himself knew what he would do." By the way – not only  did Jesus know what He was going to do, He knew exactly what Philip would be thinking in this regard. All over the gospels we read that Jesus knows the thoughts of men. So He is not trying to discover what Philip is thinking. This is not education for Jesus; this is a part of His education for Philip. Jesus didn't ask Philip this question to "discover" what was in Philip but to "make plain" what was in Philip and the other disciples in order to teach them.
Even the tests and trials that we go through is not God testing us to see what is in us, but to show us what is in us. We need to discover what is in us so that we may learn from it. Just like Jesus already knew what He would do, He already knew how Philip would respond.
A couple of questions about this question.
Why Philip?
Well one possibility could be that Philip should have known where to get food. According to John 1:44 (ESV) "44 Now Philip was from Bethsaida, the city of Andrew and Peter." Now, Luke tells us that this miracle took place close to Bethsaida. So this test could have been for Philip and for Andrew and Peter as all three of them would have known where to find food in Bethsaida.
Another possibility might be that logistics might have been  Philip's unique duty amongst the disciples.  Remember that Judas was the treasurer; therefore we should not be wrong to think that the Lord Jesus had assigned them specific responsibilities. So, it may have been Philip's job to look after the practical needs of the group. But it is obvious to us that this test was not JUST for Philip; this would test the entire group.
Even for us there is a lesson in this. Many times we might know so much, but then we are placed before tests that we cannot handle. We also need to realise that even when God tests us, more people are affected by the test. If anybody in this body goes through a trial, all of us who intersect with that person are tested in this trial as well in various ways.
What was being tested?
I believe there are two things being tested here. One is his understanding or apprehension of things. The other is his faith which is his trust in God. These two always go together. All those who know God, put their trust in Him.
His understanding was being tested.
The question that has to be asked regarding Philip's understanding of things is if he understands the WAYS of His Master and does he understand the ABILITY of His Master? Also, does he understand the heart of his Master? In a sense Philip should have known that Jesus was not asking the question because He needed Philips guidance. He was there when Jesus changed water into wine. The very reason the crowds were following him was because they saw the signs. Philip should have known that he serves a miracle working Saviour.
But this is also a test of his faith. I like the way CH Spurgeon puts it. He says that: – "He wanted NOT food from Philip but FAITH." Philip could have responded, "Lord Jesus, we have no need of bread for you are greater than Moses and God fed those who followed Moses in the wilderness, and you are greater than Elisha and God multiplied what Elisha used and fed 100 people with it." Philip's faith WAS proven and it was proven to be very small, for he pulled out his calculator and looked past Christ to the resources of this world.
What was the purpose of the testing?
Obviously it was for the education of Philip and the other disciples. Remember that the Lord Jesus Christ here is training His men for the very foundation of the church. Not only was He continuously educating these men, but do we realise, believers, that the Lord Jesus is continuously educating us? We are not apostles but we have the same master. He is our Lord and Saviour, but He is also our teacher. Are we not His disciples? Do you realize that you are, right now, in the school of Christ?  Do you know that He has a curriculum set out for you, a course of study?  He isn't coming up with a programme in some haphazard fashion.  His program for you was set forth in the infinite wisdom of God from all eternity even before you were born.
Not only was your salvation planned in terms of justification, but it was planned in terms of sanctification. The students in His school don't set their own schedule or choose their own courses.  They also don't get to choose the classroom.  Jesus, our Master, our Rabbi, as well as our Lord and King and Saviour, is the One who sets forth our programme of study, and chooses the tests. How many of the classrooms and tests in life would we have chosen? In the spiritual school of life, He makes the choices. When you are finished you won't get a degree, you will get something much more valuable.  You will be conformed to His image.  You will be like Him.  His school is much more valuable than any school that men may set up for you.
Point 2. The answer Philip gave.
John 6:7 (ESV) "7 Philip answered him, "Two hundred denarii would not buy enough bread for each of them to get a little." Jesus asks a question from Philip and Philip gives an answer. His answer is basically that 200 denarii which equal 8 months' worth of wages would not buy enough food to give each one a bite.  Now, there is more than Philip's response that comes out of this test.  There is the response of Andrew, the response of the boy and the response of the multitude.
But this morning I want us to focus on the response of Philip. I want to be careful of not reading too much into Philips response, but there are a few things of interest here.  Philip's response by the way was misguided in several ways. Let me give you two of those ways.
2.1

He didn't answer the question of Jesus.
Did he really answer the question of Jesus? Jesus didn't ask him 'HOW' did He?  He didn't say HOW ARE WE TO BUY BREAD, or HOW ARE WE TO PAY FOR IT? Jesus asked him 'WHERE' they could buy bread for all these people. Philip instead of staying on his Master's focus immediately shifted his focus in another direction.  He began to crunch numbers.  His focus wasn't on 'where' it was on 'HOW'. Jesus focused on the crowd and their need, Philip focused on their resources. Now it might be that they had 8 months' worth of wages with them, unlikely though as I think he is just talking figuratively, but I do not believe that Bethsaida would have had enough bread for 15 – 20 000 people. Remember that the disciples wanted to send the people to the surrounding villages to find food and accommodation.
Phillips response shows that he only thought on the level of the market place, the natural world. How often is it that we are off base at the very beginning because we don't even pay attention to the matters that our Lord has directed us to pay attention to?
For example: Think about evangelism. What is our role? It is prayer and sharing of the faith. We cannot even start with the how will we get them saved, because that is the Lord's part. We don't save people, God births people from above. I have seen all the programmes of 'each one reach one', and 'if I train two, and they each train two and so forth we can change the world in 13 years." It looks good on paper, let's rather just get on with the job and as we are going, let's make disciples. You don't have enough denarii to change the world, but you have all the resources necessary to witness namely the Spirit in you and a mouth to speak and opportunities.
For example: What has He told you about your daily needs? Remember the Disciples prayer that the Lord taught them. Matthew 6:11 "Give us this day our daily bread," "Just ask" God says. We don't have to figure out HOW our needs will be met.  We don't have to figure out WHERE God will supply those needs from, though we must take all of scripture and remember the necessity of hard work and being responsible. In all of it God is our source and our provision. So when you have done your work, used your skills, been faithful and responsible and you earn by the sweat of your brow, ultimately He is still your provider.
Is that not what we see in Matthew 6:25-32 (ESV) 25 "Therefore I tell you, do not be anxious about your life, what you will eat or what you will drink, nor about your body, what you will put on. Is not life more than food, and the body more than clothing?" Then for a few verses He talks about the birds and the lilies and how God takes care of them and then we read in verse 30: Matthew 6:30-32 (ESV) "… O you of little faith? 31 Therefore do not be anxious, saying, 'What shall we eat?' or 'What shall we drink?' or 'What shall we wear?' 32 For the Gentiles seek after all these things, and your heavenly Father knows that you need them all." So what is our focus supposed to be? Matthew 6:33 (ESV) "33 But seek first the kingdom of God and his righteousness, and all these things will be added to you."
Do you believe that these words represent reality or are they only given to impart some feeling to you? Our problem is that we don't always like what God has provided.  So Philip messes up because his mind is turned to an area Jesus never asked him about. But there is another reason why Philip was in error.
2.2 

He didn't understand the desire or ability of his master
If Philip had understood THE ABILITY OF JESUS to meet this need and the DESIRE OF JESUS to meet this need, how do you think he would have responded? Would He not have said something like: "Lord, I don't know where we would buy bread, or how we would ever be able to do it, but I know this, if you desire to meet this need through that means you have the ability to produce a bakery for bread right here in a desolate place, and you have the ability to produce the money that we will use to buy it.  But if you desire to provide without the bakery and without the money you can do that too."
It is the same Jesus who could take the money for the taxes out of the mouth of a fish isn't it? There are many hard lessons in it for us. To what extent do we trust the miracle working God? What is the difference between blind stupid faith and real faith? Jesus tested him, not because Jesus didn't know what was in Philip, but Philip needed to know what was in Philip, so that Philip and the other disciples could learn a lesson on this day.
Point 3. The implications of this question and answer for the disciples and us.
What was the result of this question and Philip's response? Philip checks the resources and becomes acutely aware that there is not enough.  Andrew brings along a boy with 5 loaves and two fish. What is that for so many people?  The result is that they learn from their insufficiency. From a human point of view there are not sufficient resources. What had become clear is that the need was beyond man's ability.  If the need of the people were to be met, it would have to be a supernatural and divine solution.
There are lessons in this for us. There is a practical lesson and a profound spiritual lesson. The failure of human resources is highlighted here, not only for the circumstances of our life, but especially for a right standing before God. Do you ever recognize a failure in your own resources?
Our physical resources are insufficient? Your body can fail at any moment. You cannot trust the economy can you? And so the list goes on. We face this fact as the church all the time. If the ministry here was dependent on what we could do, how much of what has been done, would have been done?
Our emotional resources are insufficient? How often do we not try our best to face circumstances and we just cannot because our emotions are not a sufficient resource in times of trial.
Our intellectual resources are insufficient? Sometime we think we are smart and clever and then the Lord shows us that we are not nearly as smart as we think we are. If you are trusting in your intellectual abilities as your answer, you have put your trust in an insufficient resource.
Our relational resources are insufficient? You might say, 'I have a good husband or wife and good children and lots of friends.' My business partner is the best you could ever want. We are often guilty of putting all our trust in that, but my friend I have often said it from this pulpit, people will disappoint you because they are an insufficient resource, because suddenly, they are not there for you anymore.
Thank God for all of the above, but don't put your weight there.  So where does our sufficiency lie? It does not lie in something, but in someone. It is only our Saviour who is sufficient in all situations. Most importantly, have you ever recognized your failure in spiritual resources? Do you realise that every spiritual resource you have has come from Him? We stand for sound doctrine right? How did we get there? Is it because we are so clever, or because God is so gracious.  Without Him you will not stay in sound doctrine, you will not stay in God's love. Salvation by the way from beginning to end is a work of God, a work of grace; it is not of ourselves so that no man should boast.  The only reason I can continue in the faith is because the Lord preserves me. He is the one who sustains us and will present us faultless in the presence of His glory.
Let's get back to our text.  Was Jesus a sufficient resource? He was wasn't He? We are going to see more and more of this fact as we continue. But do you believe that He is today?  Do you believe in the sufficiency of Jesus Christ? Is He a sufficient resource for your physical, your emotional, your intellectual, your relational and your spiritual needs? The Word of God says so and we jump ahead a bit to John 6:35 (ESV) "35 Jesus said to them, "I am the bread of life; whoever comes to me shall not hunger, and whoever believes in me shall never thirst."
The best way to end this sermon is with Jude 24-25 (ESV) "24 To him who is able to keep you from falling and to present you before his glorious presence without fault and with great joy— 25 to the only God our Saviour be glory, majesty, power and authority, through Jesus Christ our Lord, before all ages, now and forevermore! Amen."
Amen!
Soli Deo Gloria
Logos Community Church: - 7 June 2015